The history of the Sladebank Woods stretches back many, perhaps millions, of years. It's an evolving tale and a journey we'd like to share with you.
Find out how we came from here …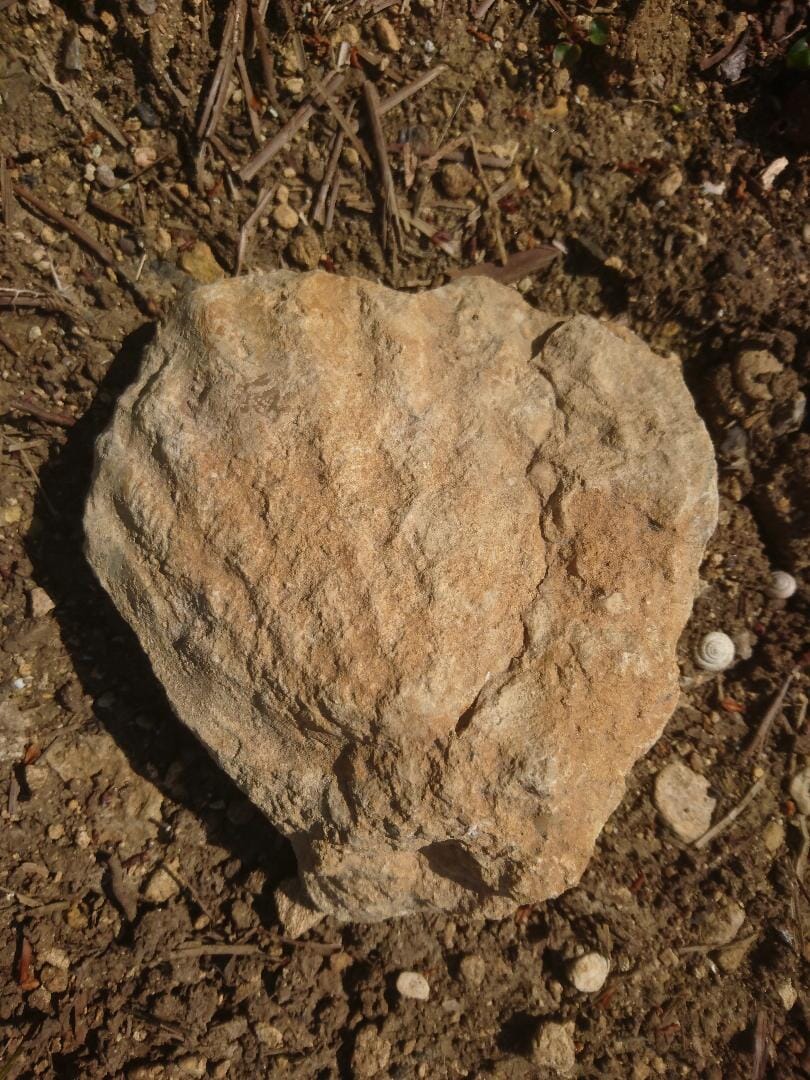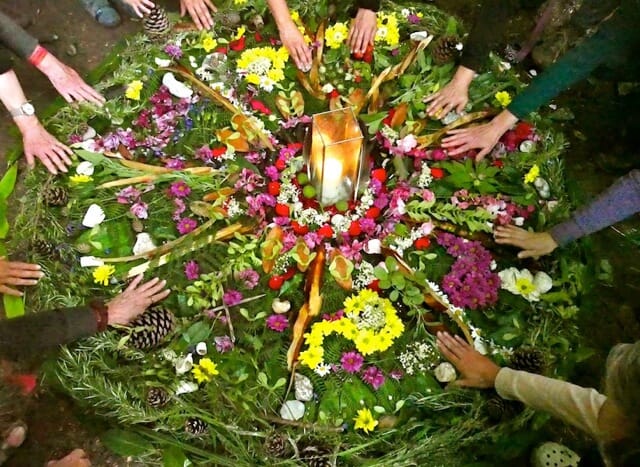 This fossilised shell, found by Martin and Kesty in the woods, links Sladebank Woods to the era when this land was under the sea. If any local experts can date the shell, please get in contact!
There is a map of the woods going back to 1880. We are honoured that we still have the black fir tree (also known as a Corsican pine) which was recorded on this map.
This aerial photograph shows the site as being mainly meadow. The black pine is also visible on the photo.
The woods were grazed by cattle up until about 1960 and the last farmer here was Mr Milton. The cows were brought down a track that leads from where Langtoft Road is now located and into the upper part of the wood.
Plans were drawn up by Mr and Mrs Saunders to build 16 houses on the land but were never submitted to Stroud District Council.
Since buying the woods in 2000, Martin and Kesty have had an aim to manage this beautiful woodland so that wildlife and people can thrive here, with an emphasis on education and conservation.
A Tree Preservation Order covering the whole site was already in place.
The first management plan was produced in February, approved by Stroud District Council's Arboricultural Officer. This plan is updated and resubmitted every five years. For details about how the woods are managed, visit the Earth Care Here page of the website.
Our first of many tree-planting sessions took place with a donation from our friend Anja Saunders. Lime and birch were some of the species planted.
Managing the woods takes dedication and a lot of work, and we are grateful to the wonderful volunteers who help us. One of our first projects, in 2002, was with local people and Stroud Town Council to clear the lower part of the site (near Summer Crescent) of rubbish.
Percy, a long-standing neighbour who was exactly 80 years older than Martin and Kesty's son, was photographed with their two children by the black fir.
Application approved for selective felling along the boundary with Langtoft Road at request of neighbours. Dumped rubbish dropped over the walls near Langtoft Road was cleared by neighbours at the same time.
Monthly Wood Group began, consisting of local people interested in volunteering in exchange for firewood. The group is still going! Thinning ivy-covered sycamores brought more light to the land, creating opportunity for more diversity of tree species.
Red Hearth House, a sanctuary and retreat for local women and girls, took place each June from 2010-2017. This was one of the first Red Tent projects in the UK. Find out more on the Red Hearth House page.
Groundworks carried out to create space for a new orchard.
Local artist Jaine Rose created artwork capturing the essence of the woods.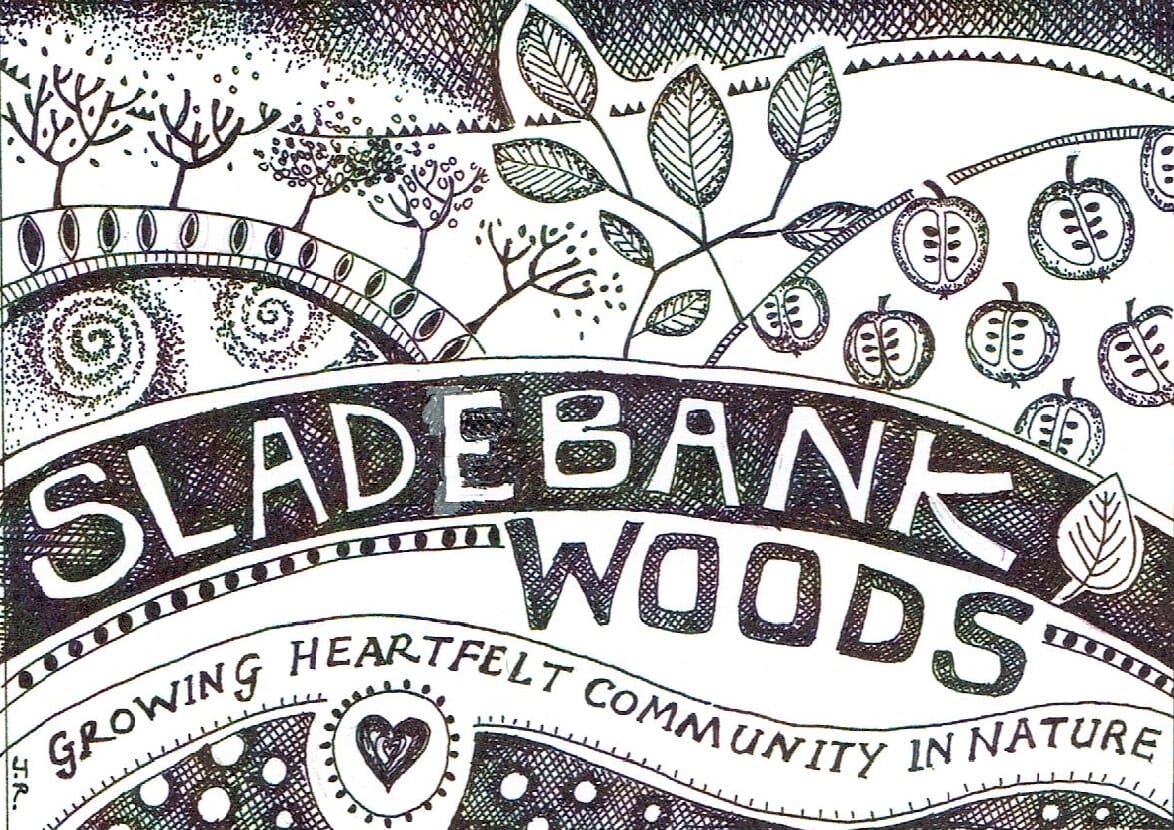 Volunteers helped to plant trees in the new orchard. Stroud Valleys Project, a local conservation charity, provided 500 trees through the Big Tree Plant Fund. Stroud Save the Trees funded a good part of the orchard and a number of volunteers were from this group.
Stroud Town Council and Stroud District Council monolithed large beech trees on the boundary to make them safe. Monolithing, a form of pollarding, is a way to prevent trees from growing any bigger, with the remaining tree providing standing habitat.
Our first Forest School events took place.
Fruits of the Forest – an open weekend with woodland activities, craft and apple pressing – attracted 100 visitors.
Sing for the Trees event held to mark Earth Day led by Sheila Macbeth, a local community choir leader.
Sladebank Woods was set up as a Community Interest Company – a limited company which exists to benefit the community rather than private shareholders. Martin and Kesty Jakes are the directors, and the company number is 10157786.
Designated as a Key Wildlife Site by Gloucestershire Wildlife Trust. To find out about the species in the woodland, visit the Earth Care Here page.
A day of nature in art created the Biodegradable Sculpture Trail. Local people were invited to build a trail using natural materials, with artists on hand to design, make and install the creations. The project received financial support from Stroud Town Council and involved pupils from Severn View Primary Academy and Stroud Valley Community School. Fleur Pennington created this stunning deer using twigs found in the woods.
The first Of Course We Can event was held. This inclusive programme managed by Active Impact brings together disabled and non-disabled children as part of Gloucestershire County Council's Short Breaks for Carers Scheme.
Our third Open Weekend with 200 visitors taking part in spoon carving, mushroom log workshops, guided walks and crafts.
The Red Thread community textile project started. Over six months, 40 women created textiles celebrating womanhood.
Five panels were created through the Red Thread project and shown at an exhibition at Lansdown Hall marking International Women's Day. They now provide decorative insulation in our roundhouse. Find out more on the Red Thread page
The Somerfield Trust funded a new project Naturally Skilled For Life when students designed structures and printed them on a 3D printer in a classroom setting, and then constructed a geodome using natural materials in the woods.
Local families helped to raise awareness and £1,000 for the Gloucestershire Deaf Association when they slept out in the woods.
Jack and Jenni Stone, who live close to the land, created a welcome sign using a piece of our wood and a pyrography pen, which perfectly sums up the feeling of Sladebank Woods.
The restrictions imposed by lockdown supercharged the creation of an updated website which could sing the song of Sladebank Woods to our community. A team of local talents popped up to help make this happen, each bringing their unique skills to create the website you see before you! We had fun making it and hope it sings to you.
To mark 20 years of care-taking the land, we invited friends of Sladebank Wood to make bunting and to hang it in a place that spoke to them for the Heartscape project.
Sladebank Woods, with the involvement of so many local supporters, is developing as a heartfelt community. Thank you for exploring our story so far – and please be sure to be a part of it in the future.
There's a lot that we don't know about the history of the woods so we're running a project to gather people's memories, stories, photographs and sketches of Sladebank Woods. Do you remember the cattle being driven into the woods? Did you play in the woods as a child? What else would you like to share? Please get in contact, we'd love to hear from you.